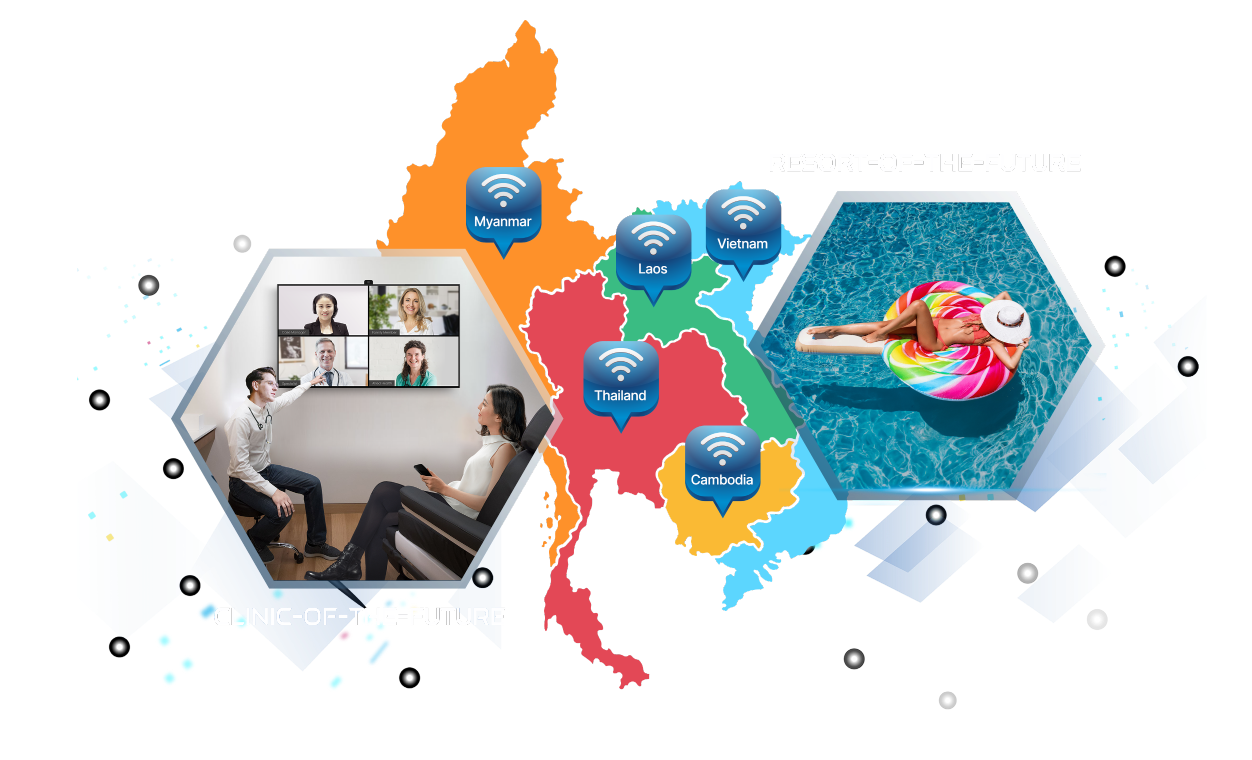 Indochina kicks off unprecedented healthcare democratisation via a new medical knowledge sharing cloud, "Borderless.clinic" Thailand and Vietnam are taking the lead in Indochina's knowledge-based healthcare transformation.
20th July 2023 – Borderless Healthcare Group, a global transformation leader in healthcare technology, media, telecommunication service and content, heralds a new knowledge-based healthcare economy in Indochina with its medical knowledge sharing cloud where top health and wellness experts in the region and the world can work with local doctors to support the rebalancing of healthcare knowledge and service landscape in the region.
The healthcare market in Indochina is not only propelled by the growth of the domestic market but also by the growth of international medical tourism, especially in Thailand, which has already been developed into an internationally renowned standard. Indochina countries with the exception of Thailand, allow foreign doctors to practise locally, and with the region now connected by high-speed train, regular flights and cross-border highways, a new era of knowledge-based healthcare economy where earlier prevention, faster diagnosis, more precise treatment plan with the support of best-of-class medical knowledge leader is imminent.
"The impact of a knowledge-based healthcare economy is not limited to a hospital and clinic setting. The know-how of the cloud-based health and wellness experts can transcend into a new immersive telehealth and wellness experience at resorts, homes, corporate offices, community hubs, etc. We see the whole region like a wellness archipelago dotted with technology-enabled boutique medical and wellness resorts," says Dr Wei Siang Yu, founder and chairman of Borderless Healthcare Group.
"With the neighbouring countries receiving international medical talents and investment, Thailand has to elevate the playing field to converge its medical, wellness and hospitality industries into one seamless experience with technology enablement," says Dr Chartree Saenghiranwatana, a senior IVF doctor in Thailand working with a team of international fertility experts to commence Thailand's first fertility wellness resort program.
"The emergence of wellness resorts in Asia can be very timely as Thailand is positioned to attract global high-net-worth inidviduals who are already sophisticated in wanting to enjoy health and wellness experience in the comfort of the resort and supported by renowned preventive doctors around the world," says Ms Kanoknat Adhyanasakul, executive director of one of the top wellness resorts in Thailand, Amatara Welleisure Resort.
Indochina's new technology-enabled knowledge-based healthcare phenomenon is expected to have far reaching economic impact with multi-industry convergence and new investment perspectives and opportunities interplay. A dedicated "Borderless Lifestyle" showroom and training facilities are already being built in Thailand by Borderless Healthcare Group to inter-operate with strategic partners from the medical, wellness, real estate, hospitality, tourism and investment industries.
###
For media inquiries, contact
lani@borderlesshealthcare.com
.
About Borderless Healthcare Group
Borderless Healthcare Group (BHG) is a global pioneer in consumer-centric healthcare economy where technology, service, content, media, product and data science are made interoperable across a global ecosystem of business groups spanning from healthcare, agelessness, wellness, precision nutrition, technology, media, bio-banking, cloud services, artificial intelligence, hospitality and investment. Most of BHG's initiatives are world's firsts and many are aimed at disrupting or transforming the existing distribution and supply chain of healthcare. For more information, visit
www.borderlesshealthcaregroup.com
.